Focus 12th Annual Users' Conference
Currently in Session:  Check out the Keynote Address at: Keynote
February 3-4, 2021
Welcome to Focus School Software's first ever Virtual Users' Conference! The virtual event will be held on February 3-4, 2021. There will be no cost to attend this event.
We will miss spending this time with you in person, but we believe it is in everyone's best interest to provide content safely via a virtual conference. As always, we are dedicated to supporting you, your staff, and students as we all navigate through these trying times.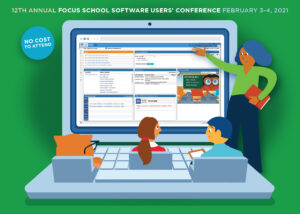 Where Focus users come to learn, share, and FOCUS on what matters.
The 2021 Users' Virtual Conference is full of informative sessions, the latest updates, tricks and tips, and opportunities to connect and share with your peers! Stay tuned for additional details on our Virtual Conference, Sponsor 'exhibits', and all the opportunities we have in store for you!