focus state reporting
Focus understands that there are two distinct needs when it comes to student data: data that is error-free and data that accurately represents a district's student population. Focus ensures that our clients' data meets both of these needs.
Quality data is the top priority during state reporting periods, but Focus understands that data quality should not only be a consideration in these "snapshot" times. This attention to data quality keeps school and district performance on target, and makes state reporting an easier process since every data-driven decision requires accurate data.
Focus has successfully met state reporting requirements for every state in which the company does business. This includes state reporting for Florida and Texas, two states that are recognized as having the most demanding state reporting requirements, in addition to New Jersey, Michigan, and California.
Focus has a variety of built-in features for error checking while entering data. Our district address catalog feature prevents users from entering a student who is outside the zoned area for the school. The course catalog feature prevents errors for users when entering course information. Customizable edit rules are used on fields that have specific requirements related to other fields.
In addition, Focus provides verification reports, which help to ensure successful submissions for all data collections. Auditing and verifying data prior to submitting reports can be accomplished in Focus through the DOE verification report, which lists data errors for each report so the user can click on the specific record, validate or make appropriate changes, and rerun the report… all before submitting the data to the DOE.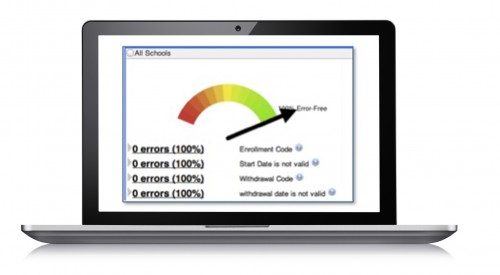 These tools allow for continual data checking and school-based ownership of information; these are fundamental components to our SIS, and encourage a culture where quality data is expected and delivered.
Florida State Reporting
Since our first Survey 2 submission in 2009, Focus has met all state reporting requirements for Florida public school districts. Now, our state reporting team has developed beyond the requirements, providing an array of features that help school district users submit data without errors, faster and easier than ever before.
The Focus SIS state reporting team studies the DOE database manuals and remain informed of state changes . This is the case for k-12 state reporting, WDIS state reporting as well as McKay reporting.
Florida State Reporting Includes:
Surveys 1-9
McKay Surveys A-D
All WDIS State Reports
DOE Verification Reports
FTE Detail reports
FTE Summary reports
Demographic
Federal State Indicator
Bus Roster for transportation verification
Prior School
Teacher Course
Student Course
English Language Learner
Exceptional Student
Assessment
Discipline/Referral
SESIR
Attendance Verification
FCAT pre-id files
EOC pre-id files
FCAT Explorer
Direct Certification
Learn Fare Student lists
DMV Student lists
Missing Children
Class Size Report
Here are just a few of the features you can expect:
[layerslider id="4″]
Texas State Reporting
We brought our state reporting expertise to school districts in the state of Texas in 2013-2014. In addition to providing all required extracts for PEIMS, assessment precoding and TREx process, Focus brings Texas State verification reports which helps to ensure successful submissions for all PEIMS collections.
Focus provides the all Texas State Reporting:
All K-12 PEIMS Collections
PEIMS ID Process
PEIMS Verification Reports
TREx
TSDS Pre-ID Process
TEA Summary and Detail Reports
STAAR and STAAR EOC
Pre-Code Verification Reports
PET (PID enrollment tracking)
Immunizations Verification
Focus Texas State Reporting Provides:
[layerslider id="6″]
schedule a demo