California State Reporting
Focus' California State Reporting will provide the necessary tools to maintain individual-level data including student demographics, course data, discipline, assessments, staff assignments, and other data for state and federal reporting.  Our tools include data quality checks to prevent and correct errors, real-time reports to allow accuracy verification, and logical, intuitive data extraction tools that have been refined with CALPAD and CASAS edits and validations to meet California's requirements.
California State Reporting Includes:
CALPADS Fall 1 Extracts: SSID Enrollment, Student Information, Title III Eligible Immigrants, Student Programs, & Student English Language Acquisition
CALPADS Fall 2 Extracts: Course Sections, Student Course Section, Staff Demographics, & Staff Assignments
CALPADS EOY Extracts: Student Program, Course Section Completion, Student Course Section Completion, Student Waivers, Student Discipline, & Student Absence Summary
Generate Locator Extracts
STAR Pre-ID
Import Statewide Student Identifiers (SSIDs)
Physical Fitness Test Extract
CASAS Extracts: Personnel and User Data, Class Data, Demographic Data, Student Program Status, Entry Data, Attendance Data, Test Data, Student Class Status, Update Data, and HSE Exam Results
Extracts & Reports: Perkins E1, Perkins E2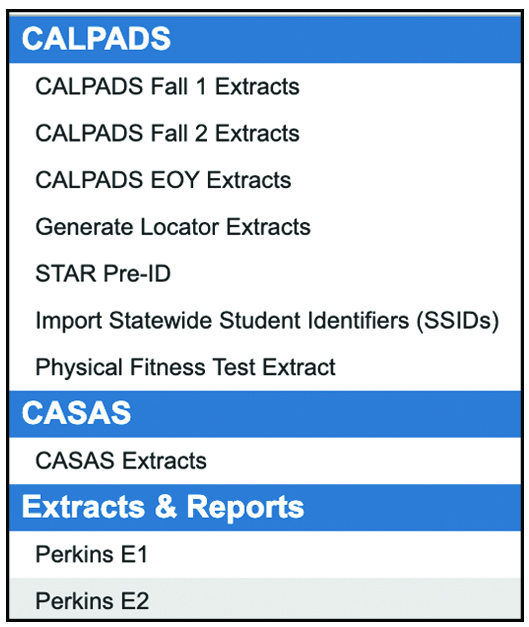 These tools allow for continual data checking and school-based ownership; they are a fundamental component to our SIS and encourage a culture where quality data is expected and strived for daily.